Respawn has released the full list of details on the upcoming Voidwalker event. Take a look at the release date, cosmetics, map updates, and everything else you need to know.
Respawn is actively keeping their game fresh throughout each season by adding event after event to Apex Legends. Iron Crown ended recently, and we already have news about the upcoming Voidwalker event set to run September 3-17.
Here are all of the details for the event - including the map changes, new cosmetics, a limited-time mode, and more.
Town Takeover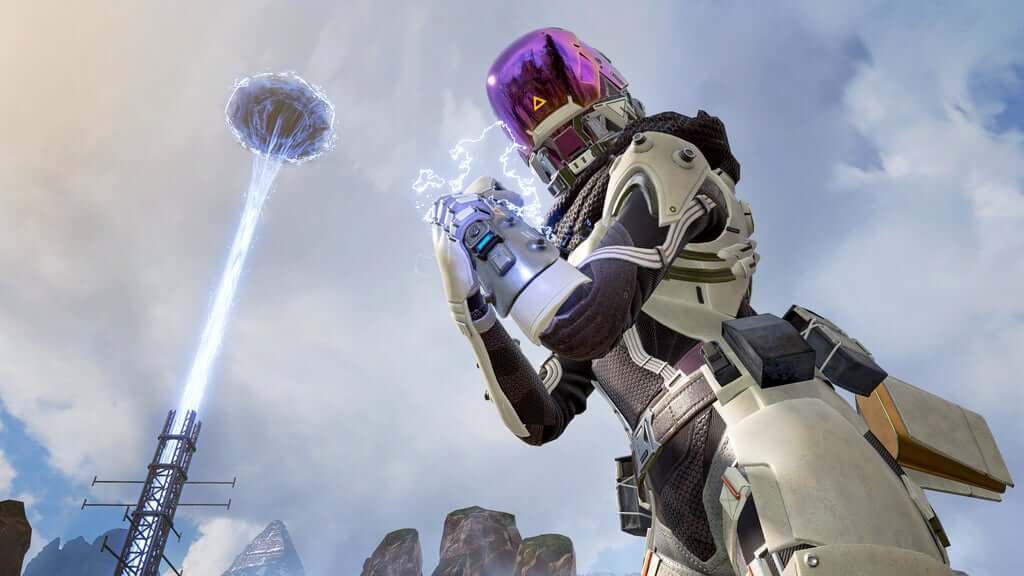 Like the Octane town takeover that accompanied the last event, the Wraith town takeover will involve pieces of the Wraith lore - including the "remains of the research site." This will also involve a sky portal (pictured above) that seems like it will work as an extreme Jump Tower.
Thanks to FrozenFroh on Reddit, we have an idea of where these updated locations are going to be: near the Shattered Forest and Hydro Dam
7 NEW CONSTRUCTION FLAGS have appeared. Wraith's Town Takeover will be located at the base camp in Shattered Forest, behind Hydro Dam from r/apexlegends
If you remember, we saw similar construction flags prior to the Iron Crown event, and these signified the areas of the map that would be undergoing change.
Armed and Dangerous
Iron Crown gave us a Solo Mode LTM, and Voidwalker is going to give us Armed and Dangerous.
This game mode is essentially a snipers and shotgun-only game mode. Respawn is clearly testing the LTM model here. While this one won't be as exciting as solo, the new mode will be interesting to try.
Challenges
https://cdn.thetrackernetwork.com/cdn/articles/F5A2voidwalker_loot.png
Like other events, the Voidwalker event will trigger some new challenges that will grant players exclusive rewards.
The more you play, the better chance you'll have at snagging one of the cooler cosmetic items for the Voidwalker herself: Wraith.
Updated Cosmetic Pricing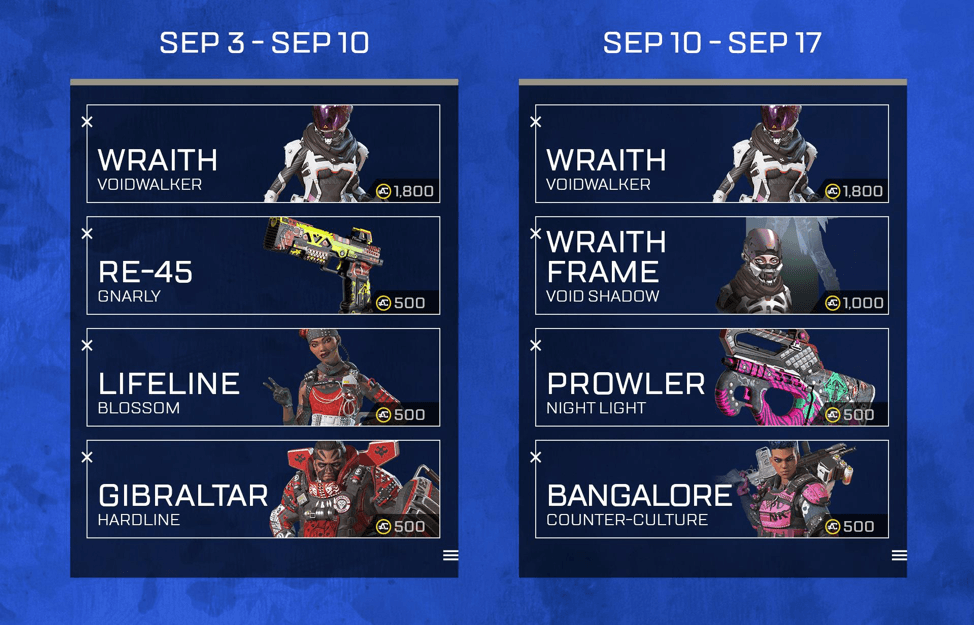 The prices of the cosmetics for the Iron Crown event were disheartening. Players took to Reddit to complain about the high cost of these items, and the overwhelming theme seemed to be: this is EA's doing.
Fortunately, Respawn has heard our feedback and is offering lower-priced cosmetics for the Voidwalker event. They provided the above rotation for the store and will add six new legendary items to the loot pool.
Apex will also be hosting a double-XP weekend from September 6-9. You can take a look at the original Apex Legends blog post here.
Are you excited about the next Apex Legends event? Let us know on Twitter @Apex_Tracker.