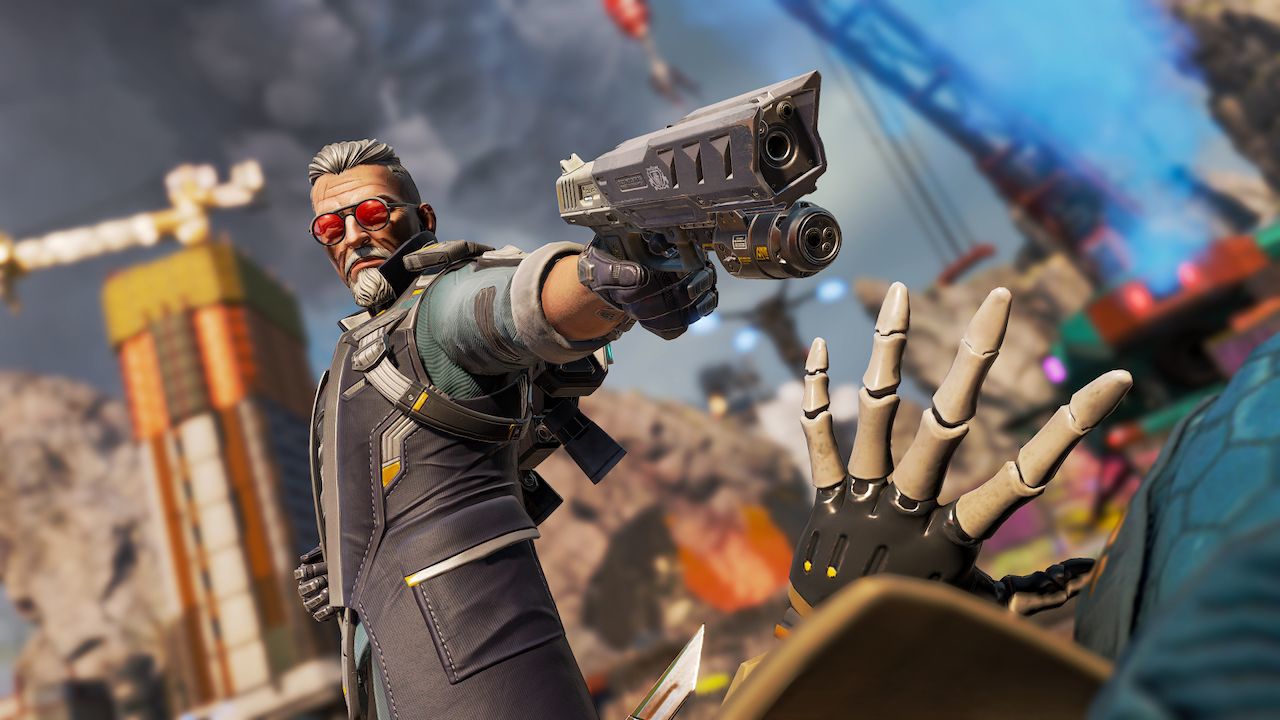 The latest in Apex Legends news includes the most recent update, Arsenal. The update includes various new features including a new legend as well as new bug fixes, patches, and more!
Former champion of the brutal Thunderdome Games, August Brinkman (aka Ballistic)  is making a return to the arena after years of isolation. August was once married to Sok Leng, a fellow fighter, and brother of Kit Siang Phua, with whom August had a personal bond. However, tragedy struck when August's selfish tactics led to Kit Siang's death, prompting August to leave the Games and his family.
August's son, Nate, has now followed in his family's footsteps and joined the Apex Games. In an unexpected turn of events, August has struck a deal to take his son's place in the Games. He brings with him a set of new skills that will surely shake up the competition.
August's abilities include a passive called Sling, which allows him to store a third weapon in a sling. He also has a tactical ability, Whistler, which shoots a projectile that overheats an enemy's gun as they shoot, causing damage. Finally, his ultimate ability, Tempest, grants nearby teammates faster reloads, faster-armed move speed, and Infinite Ammo. The sling weapon is also upgraded to gold, making it a deadly weapon.
What Are All The Updates Coming To Apex Legends Arsenal?
The game's Battle Royale mode will now feature the World's Edge, Olympus, and Kings Canyon maps for public matchmaking.
Ranked mode has undergone a significant update, including a new matchmaking system based on hidden skill ratings. Skill adjustments will be made based on premade sizes to account for the competitive advantages gained. The new scoring system now emphasizes winning the battle royale, while the new bonus system conditionally rewards wins and compensates losses.
A positive to this update is that players will no longer have to deal with split resets. Instead, the ranked system will have a full seasonal reset, which will start with 10 provisional games. In addition, players must now be at account level 50 to play Ranked.
Also added was the Weapon Mastery, a long-term progression system designed to encourage players to learn about the strengths and characteristics of all weapons. Players can start with every weapon at level 1 and progress through Weapon XP by using them in any game mode. Every 20 levels, a weapon-specific trial will unlock for players to test their skill with that weapon and receive rewards for completion.
Players can also take advantage of the The Evac Tower, which is a portable Jump Tower that can be used to quickly escape or set up a deadly assault. However, players can destroy the tower, leaving users stranded. The Ping system has also been updated with new pings and quality of life improvements to help non-verbal communication.
AS mentioned before, tons of new patches and bug fixes were also made. To view the entire list of everything that was updated, you can check out the official post detailing the update.
If you're interesting in looking at all the stats and leaderboard information for Apex Legends, then check out Tracker Network's official stat tracker for the game!
Comments